EDELWEISS ENERGETIC ORGANIC CREAM DEVAEVA®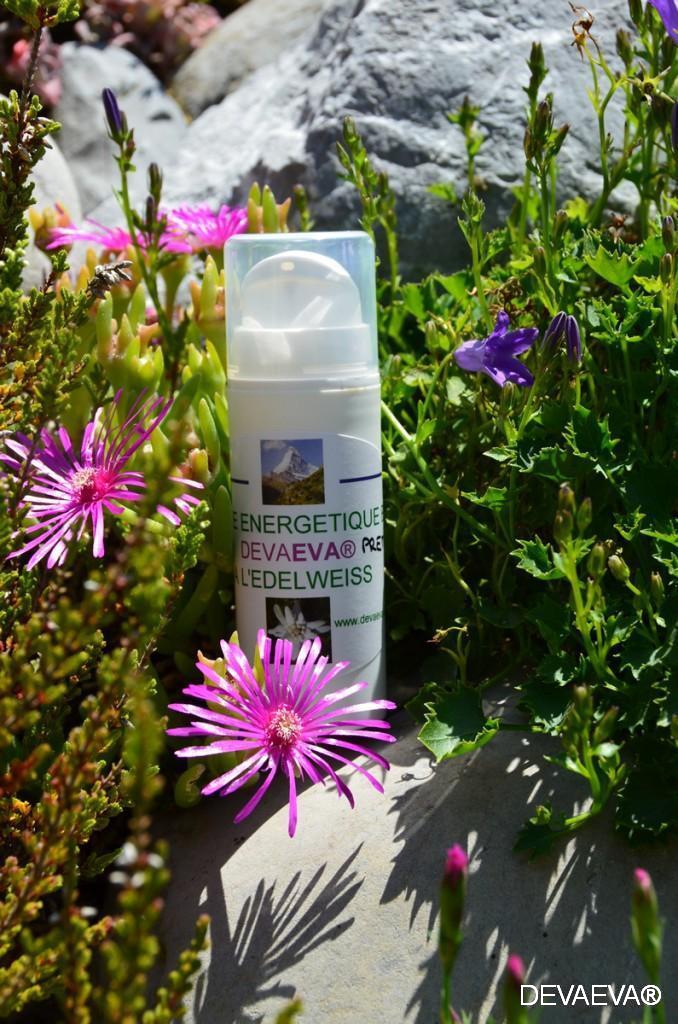 Edelweiss care cream DEVAEVA® is particularly rich in active ingrédients moisturizing, nourishing and regenerating. It is made of :
Edelweiss Energetic Macerate DEVAEVA®
Edelweiss Organic Elixir
Edelweiss Organic flower extract and
EM technology (Efficient Microorganisms).
The DEVAEVA® Energetic Macerate is made in conscience, in the respect for the alive itself and from superior-quality raw materials, whose ingredients are the following ones:

Biological flowers of Edelweiss, dried naturally
Biological Vegetable Olive oil, First cold Pressure and Food quality.

The DEVAEVA® Macerate is obtained using a gentle method, avoiding large temperature differences. It thus respects the plant and the raw material, which helps to make the DEVAEVA® Macerate a quality product.

The DEVAEVA® Macerate is the one made ​​with the highest possible amount of flowers, that is 30% .

The DEVAEVA® Macerate elaboration lasts over one month.

It is worked in an energetic way, inter alia among others, alternatively with the Sun and the Moon cycles, at precise and specific dates, to potentiate its virtues.
Edelweiss cream DEVAEVA® is anti-inflammatory, antiseptic and antifungal.
It also has many anti-oxidant, anti-aging and anti-wrinkle properties that help cells to regenerate and to fight against the effects of time.
DEVAEVA® cream protects the skin against extreme weather damage (sun, cold, wind & rain) but also against daily aggressions (pollution, stress).
All ingredients are energetized.
The energetizing acts on the subtle plans allowing cells to restructure, to repair faster and in better conditions.
Energetizing is the main advantage for the skin which keeps its health and elasticity.
The DEVAEVA® skincare, beauty and wellbeing cream gives a luminous, fresh and vitalized complexion.
In care, excellent results were obtained in treatment of:
MANUFACTURING
The whole process from picking the Edelweiss to the finished product is organic and handmade.
All ingredients come from organic farming, are natural and energetized.
PACKAGING

DEVAEVA® cream is easy and convenient to apply thanks to the BPA free, airless hygienic dispenser packaging. NO LOSS, NO WASTE !!!
STORAGE TIPS

It is recommended to :
Use the Energetic Cream DEVAEVA® within 3 months
In case of very dry skin, it is recommend to apply Edelweiss Energetic Macerate DEVAEVA® before the cream
Keep it in a cool place, away from heat sources
Protect it from light
Store it away from electromagnetic radiations (switched on electric devices, plugs, etc).
Made to order with great care !
 NATURALLY YOURS !
DEVAEVA